Create A Business Gmail Account Easily: Explained Stepwise
Creating a business Gmail account has become quite essential these days.
Gmail for business is an industry-leading professional email hosting service by Google, and setting up a new account is quick and fairly easy.
The best part is they have a free trial for 14 days where you can give it a try if it's good for your business. You can cancel any time.
Here's how to go about it.
1. Go to Google Workspace and click on "Start free trial"
Google has started giving a free trial to create a business gmail account. This way you can test it out to know what's best for your business.
After that, you will be prompted to another window shown right below.
Enter your business name, number of employees and the region your business is established in.
Click on Next.
Now enter you first and last names in the boxes shown above.
Enter your current email address as well.
Click Next.
Related: App to Make Polaroids With Captions (for free): Captagram
2. Connect your Domain(or buy a new one)
After completing all of the contact and personal information, you will be asked whether or not you already own a domain name.
If you do, select "Yes, I have one I can use," and if not, select "No, I need one" to find and purchase a domain name directly from Google. If you don't have a domain and don't want to purchase it from Google, you can buy it from somewhere else too.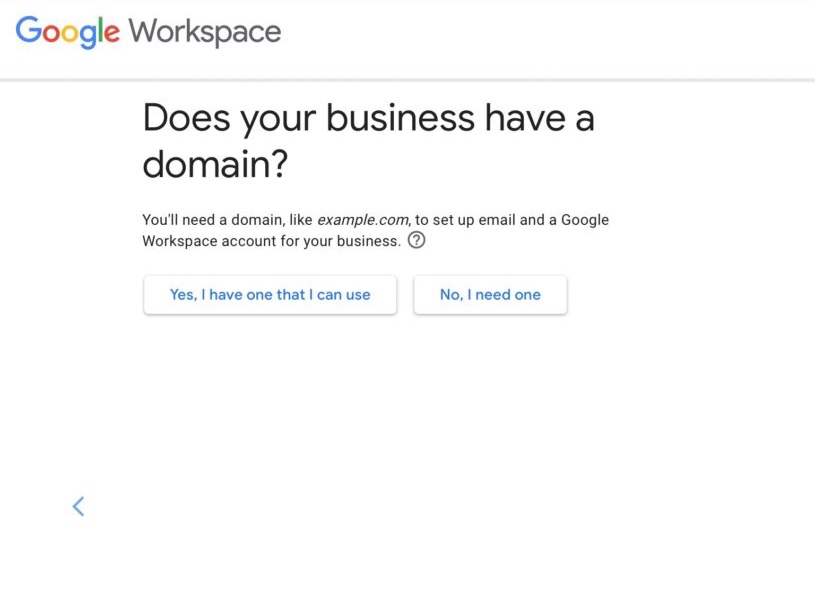 As you can see it is really simple. So you basically have two options.
Set Up a Domain Name: If you do not have a domain you will need to create one. That means heading to a registrar to choose a domain (yourbusiness.com, businessllc.com, etc.). Google Domains (which is part of Workspace, obviously) is a built-in domain registrar that you can choose to use for a smooth experience.
Verify Existing Domain: If you have a domain name already, you can use it with Workspace to leverage Gmail for Business. Just enter the domain when prompted during the setup process. Google will now have access to the domain name.
3. Create your username
The next step is to choose your username (e.g., ryan@rypeas.com, jake@ryoeas.com, julia@rypeas.com, smith@rypeas.com, or other formats) and password for your business email address.
Businesses should maintain the same email address format throughout their organization in order to keep it consistent, clean and easy to organize. After inputting this information, confirm you're not a robot and click "Agree and Continue."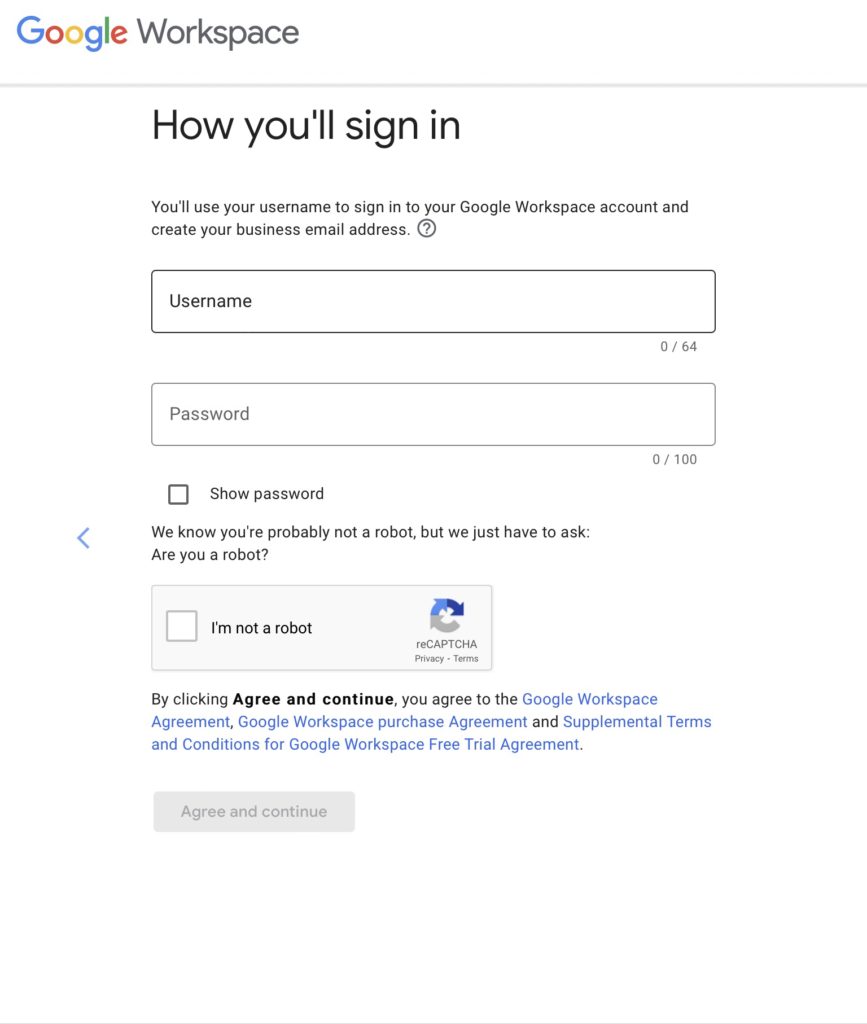 Recommended: How To Download A YouTube Video On iPhone & Android easily
4. Input payment information
Now you just have to select a suitable plan according to what your business needs and you're done.
Please note that Google Workspace will automatically assign you to the Business Standard plan, which you, unfortunately, cannot change yet. Instead, you have to confirm this plan and then downgrade after completing the new account setup. Granted, this is a free 14-day trial, and you will not be billed yet.
Click "Next," then input your payment information. When done, confirm your order and complete the checkout process.
Below are the plans google is offering right now in India apart from the free 14 days trial.
In United States and other countries, the plans are these.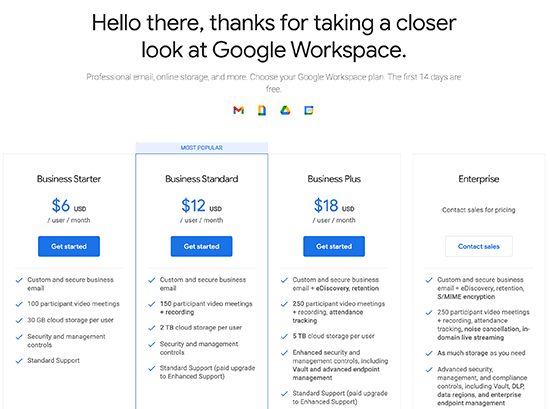 These are the following business Gmail plans:
Business Starter: Best for the vast majority of small to medium-sized businesses (SMBs) looking for professional email and the complete suite of Google's productivity and collaboration suite for just $6 p/125 INR per user, per month.
Business Standard: Suitable for businesses that outgrow the Business Starter plan and need to upgrade for additional storage for $12/672 INR per user, per month.
Business Plus: Good for businesses that have outgrown the Business Standard plan or need the ability to host video conferences with 150 to 250 participants with a cost of $18/1260 INR per user per month. For Indians, 500 participants are allowed.
Enterprise : Best for large companies that need 300 or more accounts.
After creating Gmail business account, do the following things. (optional)
If you want to transfer your previous emails to your new Gmail account, you can migrate your emails. If not, consider adding new email apps or Gmail extensions to extend the functionalities of Gmail for business.
Migrate email to Gmail: Navigate to admin.google.com. From there, click on "Apps." From the "Setup" section, check the box next to "User email uploads" and click "Save." Finally, return to Gmail, go to "Settings," and start the import process. For more information and troubleshooting, visit Google Workspace Help.
Customize your email: With Gmail, you can customize your email account in a number of ways, from adding a profile picture to creating a custom email signature under the "Settings" option .
Add new users: If you need to create Gmail for business email accounts for your employees, you can add new users by navigating to Google Domains, selecting "Email" from the menu, and clicking the "Add New" option. Follow the step-by-step instructions as given by google.
Conclusion
In my opinion, if you have a growing business and your ROI allows you to invest in it, don't even think about it twice. Go for it!
It saves a lot of time and energy and looks more professional. I have mentioned other benefits like storage, better productivity etc.
So this is an all in one email that'll benefit you a lot.
Don't wait no more and Start your free business gmail account trial today.