Top 5 offbeat Netflix movies (Hindi) that you need to watch today!
Following is a list of top 5 Netflix movies (Hindi) that you need to watch today!!
This list does not include the classics that most you must have already watched.
We included the gems that "maybe" aren't that popular but SHOULD BE!
Because they just might be better than the classics or the famous blockbuster hits.
Bulbbul
Should I start with the exciting plot or the on-point acting or the breathtaking cinematography or the fact that it's not that long and can fit in with our busy schedules!!
This movie is a MUST-MUST watch.
Had it come on the big screens, oh I so wish to see the gorgeous pink scenery on the big screen. What a treat to the eyes. The plot revolves around a little girl Bulbul who was married off at a very young age and comes across a story of a 'chudail' that haunts the area.
This story is thrilling, horrifying, and too relevant and amazing to miss.
Game Over
With an IMDb rating of 7.1/10 and deservingly so, this psychological thriller will turn your minds with it's impeccable plot and execution. It was originally shot in Tamil and Telugu but dubbed in Hindi by Netflix. Pannu plays a wheelchair-bound woman who has Nyctophobia (fear of darkness). She's also dealing with post-traumatic stress and keeps reliving a violent incident from her past. Her worst fears are realized when a gang of intruders invades her home.
However, something sinister is brewing as she keeps waking up in the same spot after being murdered multiple by her home invaders.
Also read:
The Blue Umbrella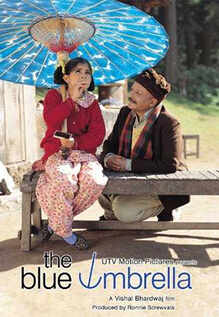 You're missing out on such purity if you haven't watched this film yet. 'Pure' is what this movie is.
You'll definitely have a smile on your face while and after watching this movie. The plot is quite simple but the message is big.
Shot in the beautiful hills of Dalhousie, the story is about a young girl who becomes popular due to a blue umbrella that is gifted to her by some Japanese tourists. The shopkeeper, Nandakishore, is so fascinated by the umbrella that he tries to get his hands on it by faulty means.
With an IMDb of 7.4/10 this movie is worth a 1000 stars and is so worth the watch.
Choked
The kitchen sink pipe starts spouting bundles of cash in the house of a low-income family of three living in Mumbai. Sarita Pillai and Sushant Pillai are a married couple and are trying to make ends meet when one night Sarita discovers wads of cash emerging from a choked drain under her kitchen sink. Since she works in a bank, she slowly starts replacing the mysterious bills with those legitimate cash from the bank. The plot twists and turns from here in ways unimaginable.
Watch this movie to see what happens next!
Haseen Dillruba
You WILL get a moral shock after watching this movie. Not gonna lie. But is the suspense and thrill worth it? Absolutely yes!
Rishu, husband of Rani, has mysteriously died and all the fingers point towards his wife. The film explores the situation of their past married life, affairs and their characters while trying to dissect who the killer is because there seems to definitely be one.
Watch this to savour suspense today.
Conclusion
Watch these Netflix movies (Hindi) and make them popular if you think that they were worth your watch. None of them is too time-consuming and are definitely gems for you to savour with some popcorn at your home.
Enjoy!