Olympic Winners India and what can we learn from them? PART 1
Olympic Winners India really made this year a confidence booster for the nation.
With the highest Indian tally of medals in the Olympic games till now, India is really seeing the future with a ray of positivity.
Sports as a career option is becoming more and more relevant and credible in Indian households.
If you would have wanted to become a sportsperson some 10-20 years back, people would have really taken your choice for granted.
But today thanks to these champions and their champion predecessors, sports is being considered a real service that you do for the society, country and for your individual growth.
I have written about 1 or 2 lessons each that I learnt from each champion, I know there are a 100 more that one can learn from each of their journeys but I wrote about the ones that connected the most with my 20yr old self-employed self.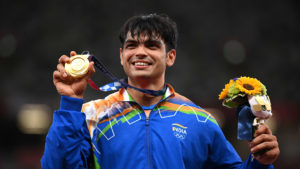 #1 NEERAJ CHOPRA
Neeraj Chopra, the first track and field athlete to win an Olympic gold medal for India definitely teaches us 2 very important lessons.
The first thing we all can learn from Neeraj Chopra is the confidence one should have in the relevance of their dreams and purpose.
Sports and that too Javelin Throw was not given much importance in India, But the fact that this gold medallist saw the beauty of the sport and moulded his strength to master it is commendable.
And now he inspired so many athletes to actually pursue this sport.
He's gaining all the rewards, fame and success in the world because he chose the path he 'wanted' to chose and not what was considered "popular" or "cool".
He made the sport popular and cool in the country.
Neeraj Chopra suffered from childhood obesity and with sheer determination became so fit that he won the first gold in Olympics for India in a track and field sport.
We all know how body shaming is so prevalent in Indian society, the champion not only suffered the health issues from obesity but also the discrimination and bullying meted out on obese people.
This didn't lower his self esteem or break him and he stood strong because he knew self-growth is the path to success.
And the "naturally skinny" people teasing him won't ever care for their health or pursue self-growth because of the delusional cocoon they are put in since birth and hence won't become successful which is the ultimate lesson for them.
Although such discrimination towards various body types should not ever be considered as a source of motivation.
And a person should only embark upon the journey of absolute fitness through their own positive will and through healthy habits to become a better, more able person than to chase an aesthetic or for looks.
But still to think that a person becomes so mentally strong as to not let these toxic experiences dull their shine is truly truly inspiring.
#2 MEERABAI CHANU SAIKHOM
Saikhom Meerabai Chanu won the silver medal in Tokyo Olympics in weightlifting in Women's 49kg category.
Being a woman you face a lot of irrational limitations from society. And one going in a sport like weightlifting which is already irrationally associated with masculinity is an even bigger taboo.
This lesson is to be learnt not only from our beautiful champion but also from her supportive family and uplifting state of Manipur.
Her strength was identified at an early age when she picked up a heavy bound of log which even her elder brother could not.
Her family encouraged this quality their daughter had and helped her hone it to achieve wonders.
The state of Manipur has a lot of sports complexes (not professional but usable) and a culture of highlighting sports as a wonderful purpose.
The positive beam of light that is our champion through the faith her family instilled in her inspires women around the nation to be proud of their physical strength and hone it to achieve ultimate success.
Another lesson one can learn from Mirabai Chanu is to handle failure in a healthy way.
She recorded a no-lift in clean and jerk on her Olympic debut in Rio de Janeiro in 2016.
Any person has the tendency to give up after such an experience. But this woman kept her determination high and now bagged a freaking silver in Tokyo Olympics and made her name among the Olympic Winners India through sheer inner and outer strength.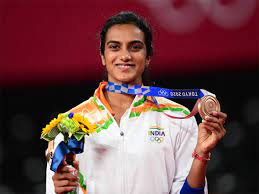 #3 PV SINDHU
PV Sindhu needs absolutely no introduction, being no.2 in the world ranking in April 2017.
This brilliant badminton player has won over 5 and more medals at the world championships and now bagged a bronze in Tokyo Olympics for India.
One lesson I learnt from her that stuck with me is the importance of sacrifice.
Again, there are a 1000 lessons you can learn from these stars am just letting you know the ones that stuck with me while researching about their journeys.
She agreed to a list of rules that her coach Pullela Gopichand proposed to her which included her not using her mobile phone for the next 8 months.
Food and other comforts that she sacrificed for that limited period of time helped her become the star she is today.
The importance of valid and positive sacrifice is one thing that just hit me as it really boosts your focus, self-control, determination, spirit and makes you an overall stronger person.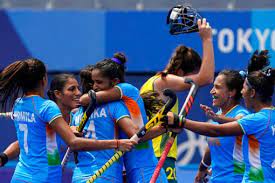 #4 INDIAN HOCKEY TEAMS
Men's Hockey team claimed the Bronze after a drought period of 41 years.
The Women's hockey team just missed the mark by an inch and came fourth which is yet another BUMPER ACHIEVEMENT for India. But they SHOULD and ARE being considered amongst the champions that are Olympic Winners India.
The sheer inspiration both of these hockey teams are for Indian players!
They have raised the standard for Indian hockey to another ANOTHER level this year.
Listening to their interviews and the humble background most of them belong to can get tears in your eyes. Due to the pandemic most of them were away from their families practicing.
With such limited resources and purely on the basis of ambition and hardwork these players achieved such success.
Due to this lack of resources part, the success of the Indian players should be seen in a magnified way because most of the winning teams belong to developed nations with Ample facilities.
So to be able to compete with them and win against some of them IS UNBELIEVABLE.
This were the 4 lessons that I learnt from 4 of the 7 Olympic Winners India. A part 2 with the lessons I learnt from the next 3 of the champions will drop this Saturday, Stay tuned ?