How did tax collection change in India after GST?
The goods and services tax (GST), introduced in India on 1 July 2017, which replaced a host of indirect taxes being levied by the Indian state and central governments, has changed the taxation landscape. The basic idea behind it was a 'one nation one tax' which would improve the ease of doing business for taxpayers, bring in transparency, ensure timely compliance and would reduce the tax burden on the common man. Since its implementation, GST has been persistently criticised by a wide spectrum of people because of its clumsy implementation. Let's take a look into the impact of GST on tax collection.
Taxation in India
Tax is a mandatory fee imposed upon individuals or corporations by the Central and the State Government to help build the economy of the country by meeting various public expenses. The authority to levy a tax is derived from the Constitution of India which allocates the power to levy various taxes between the Central and the State. Taxes are broadly divided into two categories — Direct and Indirect taxes.
While direct taxes are levied on taxable income earned by individuals and corporate entities, the burden to deposit taxes is on the assesses themselves. On the other hand, indirect taxes are levied on the sale and provision of goods and services respectively and the burden to collect and deposit taxes is on the sellers instead of the assesses directly.
The details of total Direct Tax and Indirect Tax collected over the years (preceding GST) along with the different component-wise are as under:
Direct Taxes
Corporation Tax — Corporate tax is a form of tax levied on profits earned by businessmen in a particular period of time. Various rates of corporate taxes are levied for different levels of profits earned by business houses. Corporate tax is generally levied on the revenues of a company after deductions such as depreciation and COGS (Cost of goods sold).
Income Tax — Income Tax is imposed on an individual who falls under the different tax brackets based on their earning or revenue and they have to file an income tax return every year after which they will either need to pay the tax or be eligible for a tax refund.
Also read: Which companies earned billions during Covid-19?
Indirect Taxes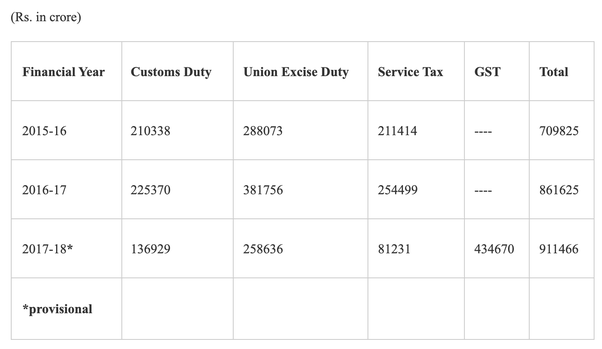 Customs Duty — Customs Duty is a tax imposed on imports and exports of goods.
Union Excise Duty — Union excise duty is a type of indirect tax on goods manufactured in India.
Service Tax — Service tax is a tax levied by the government on service providers on certain service transactions, but is actually borne by the customers.
GST — Goods and Services Tax (GST) is an indirect tax (or consumption tax) imposed in India on the supply of goods and services. It is a comprehensive, multistage, destination based tax: comprehensive because it has subsumed almost all the indirect taxes except a few state taxes. Multi-staged as it is, the GST is imposed at every step in the production process, but is meant to be refunded to all parties in the various stages of production other than the final consumer and as a destination based tax, it is collected from point of consumption and not point of origin like previous taxes.
Tax-GDP Ratio
The details of Direct Tax to Gross Domestic Product (GDP) Ratio and Indirect Tax to GDP ratio over the years (preceding GST) are as under:
The total direct and indirect tax collection in absolute terms and as a percentage of total tax collection:
Direct Tax — 2594399 (Rs. in Crore), 51.09% of total tax collection
Indirect Tax — 2482916 (Rs. in Crore), 48.91% of total tax collection
Note: Tax collection figures are from the year after the GST introduction.
Sources