5 Best Business Books To Make Your Entrepreneurial Journey Easier
Being an entrepreneur is exciting but difficult. But the fact that it gives us the freedom of being our own boss, it's worth everything. Some learned authors with their books,best for business startups,have made our entrepreneurial journey a little less difficult.
Successful is the person who never stops learning. No matter what age you are, learning is for everyone. The more you learn, the more you grow.
Everyone can tell you the risk. An entrepreneur can see the reward.

Robert Kiyosaki
1. Influence: The Psychology of Persuasion by Robert B. Cialdini 
This book explains about how to win new customers. The psychology that big companies use in order to sell their products is mind boggling. We all know every business is about negotiations whether it be a dry cleaners or a jeweler. The customers only buys the product that's worth their money. But sometimes, a little bit of convincing is needed to really get your client interested in your business.
Based on 35 years of evidence, Cialdini covers key influencers of persuasion which include the weapons of influence, the importance of reciprocation, why you must have commitment and consistency, showing social proof, why both parties should like each other, how to show authority and prove scarcity.
2. The 4-Hour Workweek: Escape 9-5, Live Anywhere, and Join the New Rich, by Tom Ferris
The name says it all. Imagine working for four hours a week for the rest of your lives. This guy has explained how he made it possible for himself to live a life that every human on this earth wants. And yes, you'd still be making enough money, but by working way less that you are right now.
Tim Ferriss is an advisor to Facebook, Twitter, Uber, Evernote, StumbleUpon, and other big-name companies. The guy must know what he's talking about. The author did the practical experiment himself first to see if it actually works or not. He went from making $40,000 per year on an 80-hour workweek to making $40,000 per month on a 4-hour workweek. When I read it I feel it's completely practical. So if you want a business that wouldn't end up consuming you, please read this book.
3. The 7 Habits of Highly Effective People by Stephen R. Covey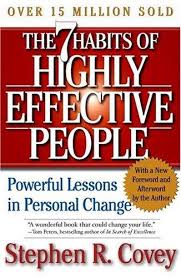 This book is all you need if you suck at management. Stephen Covey discussed these principles- Be proactive, Begin with an end in mind, Put first things first, Think Win-win, First to understand, then be understood, Synergize, Sharpen the saw. He has explained every principle in such an easy and readable manner. This is a book that you'd always go back to make sure you are on track.
Many times we end up procrastinating about our work because we are seeing it as this big gruesome task that we won't be able to finish ever. And we just keep it avoiding it. But that's not how business works. Every business demands management and planning.
This book will help you in making a workflow and a plan to that'll help you organize your business. It has two elements- control and perspective. So if your business needs some planning and organization, then you really need this book.
Related: You need a good marketing strategy plan, not luck
4. How to Win Friends and Influence People by Dale Carnegie
Effective communication forms the foundation of a successful business. Carnegie breaks down the essential steps you need to take to make friends and connect with everyone you meet. Whether it's your competition or potential investors, this book will teach you how to win over the people who don't believe in you or your idea.
Once you gain the trust of people, everything becomes easier from there. This book teaches us the art of communication and how effective communication can modify your relationships. So if you're looking to improve your people's skills, grab this book.
5. The E Myth Revisited: Why Most Small Businesses Don't Work and What to Do About It (1995) by Michael E. Gerber
This book will tell you the secrets of being a successful entrepreneur. We all know these secrets but none of us really follow them. And when you'll be going through this book, you'll realise that the most famous entrepreneurs have these all qualities.
This book isn't about an online business or an offline shop. It's about every kind of business, big or small. He has explained that the sole purpose of starting a business is so that it'll function even in our sleep. According to him, you should have a business that has the capability to work without your interference. A business that can make you money without putting any conscious efforts.
There are thousands of other books on business and management, but these are the ones that have helped a large a number of people to grow their businesses efficiently. But don't just read these books, try to apply the methods mentioned wherever and whenever possible.