10 Reel Content Ideas to make your page go Viral!
Following are the 10 Reel Content Ideas that you can repurpose anytime. They will build audience's trust, attract more people and will definitely make you go viral if done properly.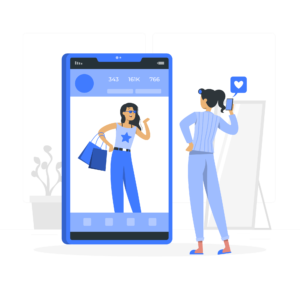 #1 Tell your Story
When you share your story in a creative way, it serves the following purpose –
People connect with you which builds trust
The audience gets to know the person behind the page
Helps you build a genuine community
You can repurpose it in a various creative ways and post it once every month or something
#2 Share your Most Favored Apps & tools
Doing this helps your audience and you serve a genuine purpose.
People tend to follow you more when you are transparent and help them grow too.
This will mostly attract fellow competitors or freshers in your field which are a huge part of why you grow on Instagram.
#3 Share Real Results
However small you might think your page is or your results are, definitely do keep sharing your progress with your audience as it shows you as a real person and people favor you more.
If you add a CTA to share your content in this form of reel, it will most likely impact your audience the most.
#4 Share a Tutorial/Tip
Short but loaded with information, Catchy tutorial reels work THE BEST and have the most chances to go viral.
Find a thing in your niche you can give a tutorial on and show it as simply as you can.
#5 Tell what people need to stop doing
As much as tutorials are important, Do's and Don'ts are also very necessary.
It puts you in a position of power, as someone who knows what they are talking about which enhances the brand personality.
#6 Share your Day
We all live out certain special days, maybe your best friend's wedding – or just a friendly brunch at a cute place – anything.
make a reel out of it, Share the brands you wore, places you liked, places you disliked, anything and everything.
It doesn't have to be niche related but these are the kind of reels that will potentially go viral.
#7 Follow a famous trend
Whether it's an Instagram game or a new filter people are playing with, Do It.
Be a part of the trends, there is nothing wrong with that.
Maybe use a famous series/movies dialogue as your base sound and create content around it. This way, who knows, you might be the one creating the trend and getting the fruits of it.
#8 Transition Reels
Repurpose your content in different kinds of transition reels.
These kinds of reels are catchy, easy to make and brings in a lot of followers and engagement.
Here are some transition ideas for you to learn.
#9 Follow your competitors
We are not saying to copy their content, but you can take inspiration from the content they are posting.
See what is working for them and what's not, an devise a unique idea of your own based on this research.
#10 Share Life lessons
This will work for people in any niche, you should keep on sharing the knowledge you gained about life too.
It will produce a feeling of spirituality, empathy and happiness in your content, your audience gets to know you more and relates with you sparking conversations, thereby building community.
Visit Here to know WHY you should be making reels if you aren't making them already.
These were the reel content ideas that we believe will make your page go viral, make them with an intention and creatively, keep it simple and you'll go viral in no time.